An Elegant, Easy, and Efficient Solution for Holiday Décor
Elevating your holiday atmosphere with a designer-decorated, pre-lit Christmas tree has never been more convenient. Carithers Flowers offers trees in multiple sizes and styles, distinctly curated for various environments. Crafted using superior materials and the expertise of award-winning designers, Carither's Flowers provides an elegant, efficient, and turnkey solution to holiday decorating.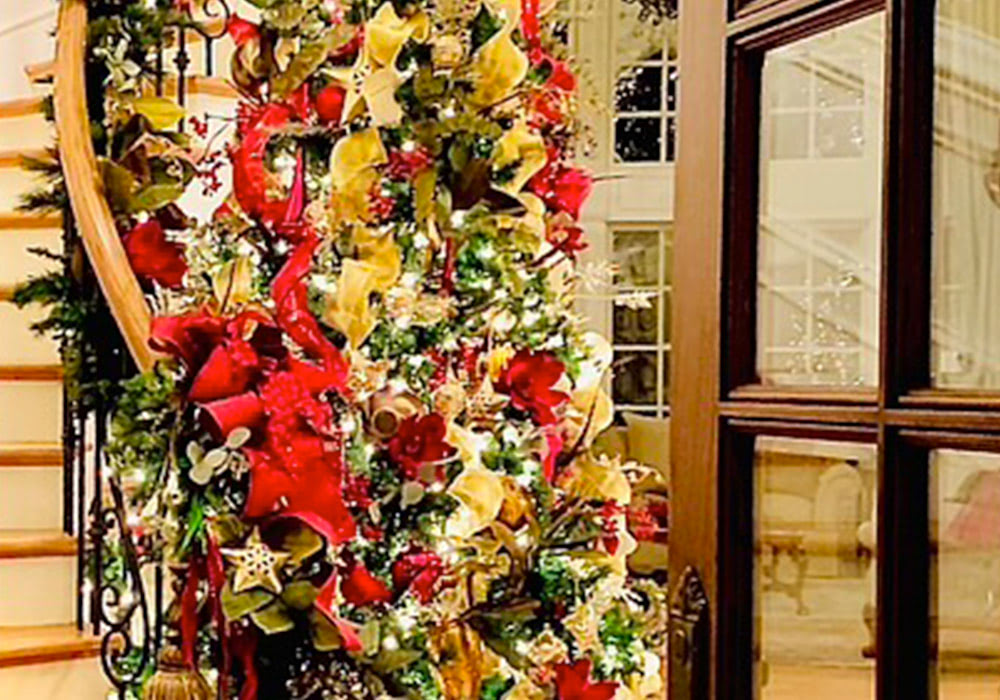 Professional Settings
Our grand 7 ½-foot slim tree is meticulously designed to serve as the centerpiece for esteemed businesses, showrooms, professional offices, and executive suites. Designed on mobile stands to easily fit through standard door frames, these trees are more than holiday décor; they're an invitation. They usher customers inside with the promise of warmth, joy, and perhaps a holiday sale. A well-decorated tree can set the mood, make clients feel welcome, enhance company morale, and even encourage festive purchases for holiday shoppers.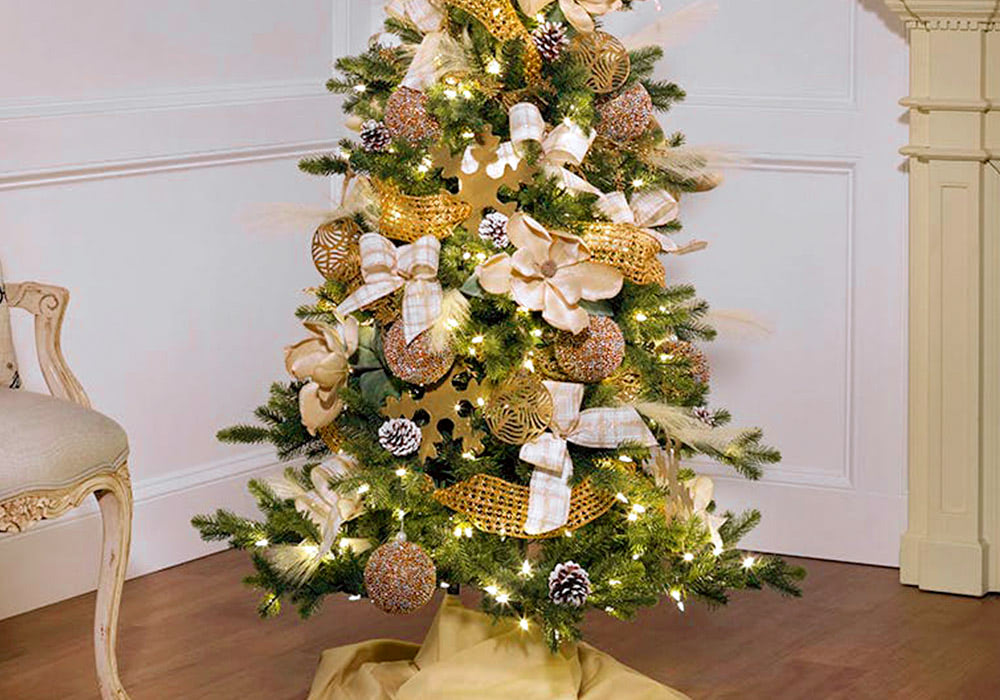 Holiday Ivory & Gold Trees
Ivory and gold Christmas trees radiate a luxurious and timeless elegance. Gold, silver, and pearl ornaments are accented with cream and ivory pompous grass, gold eucalyptus branches and taupe velvet poinsettia. Their flawless shimmer captures the festive spirit, perfect for both traditional and contemporary settings.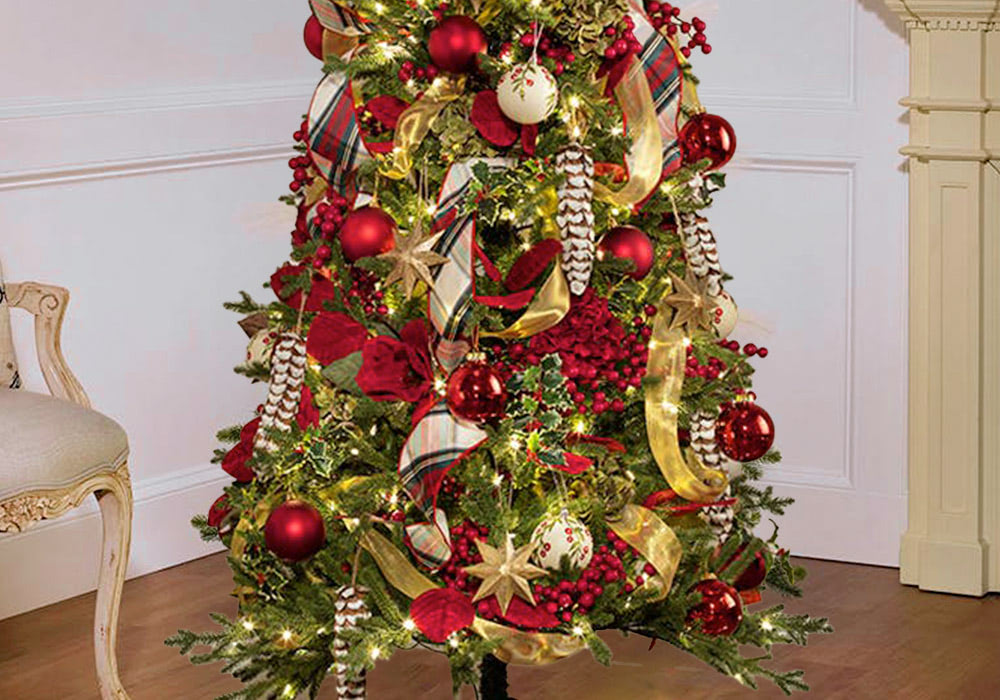 Christmas Red Trees
Red Christmas trees are the heroes of the holidays, spreading merriment and joy wherever they stand. If a bright and cheerful pop of color is on your holiday wish list, look towards our Christmas trees dressed in plaid ribbon, red berry garland, and red velvet magnolia blooms. Our exquisite trees are adorned in antique burgundy, red, and sage hydrangeas, icicle-frosted pine cones, and golden pampas grass - there is no shortage of holiday cheer!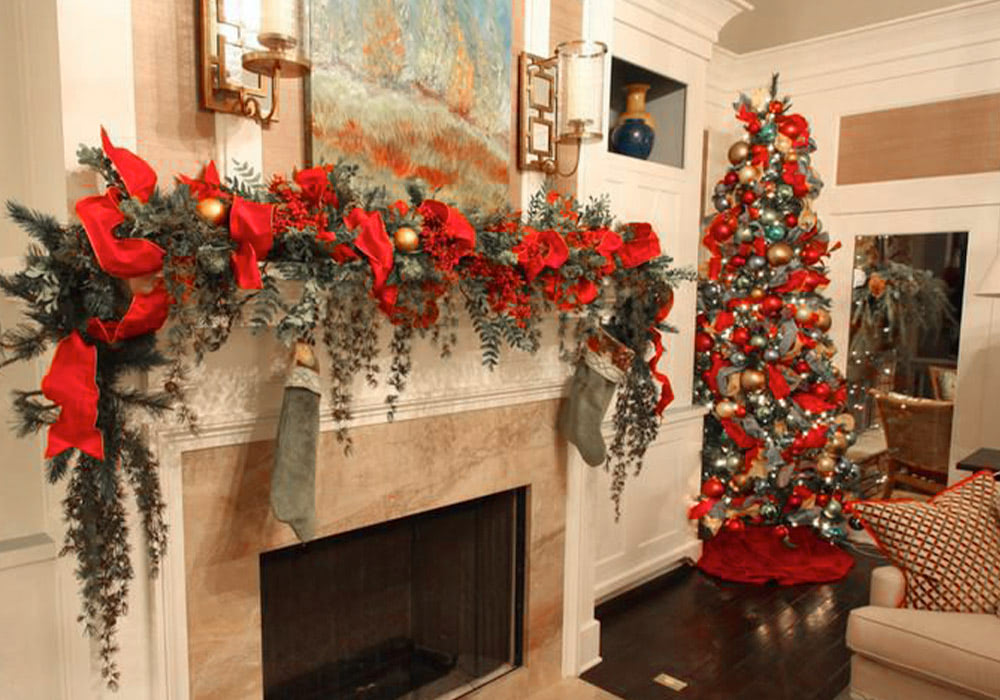 Service Details
Carithers Flowers, Atlanta's top florist, guarantees products of exceptional quality and beauty. Each Christmas tree is decorated by a top professional designer and wrapped in glistening permanent LED lights. Add tree skirts or hand-held remote-control lighting for a complete and convenient look. Beyond festive trees, Carithers Flowers' retail pick-up service, white-glove delivery, or seasonal rentals ensure a seamless and worry-free experience from start to finish.
As Atlanta's business community readies itself for the festive season, Carithers Flowers transforms its spaces with splendid designer-decorated trees. Embrace the spirit of the holidays with timeless décor and professionalism.