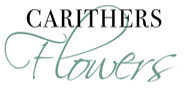 Terms & Conditions
These Terms and Conditions govern the use of our website: www.carithers.com. By using our website you acknowledge that you have read, understand, and expressly agree to be legally bound by our "Terms and Conditions" and our "Privacy Policy." You agree to abide by our "Terms and Conditions" and all applicable laws and regulations governing our website and that you are at least 18 years old, a resident of the United States and have the right, authority, and capacity to enter into these Terms and Conditions. If you do not agree with our "Terms and Conditions," you are not authorized to use our website. These Terms and Conditions are a legal agreement between you and Carithers Flower Shops, Incorporated (known as "Carithers Flowers").
These "Terms and Conditions," including our "Privacy Policy" constitute the entire agreement between you and Carithers Flowers. These Terms and Conditions shall supersede any subsequent terms or conditions included with any purchase or order, to which notice of objection is hereby given, whether or not such terms or conditions are signed by Provide Commerce. Any offer by Carithers Flowers is conditioned on your acceptance of these Terms and Conditions.
Modification to Terms and Conditions
We reserve the right to change, update or modify our "Terms and Conditions" at any time. Changes to our "Terms and Conditions" are effective immediately upon posting on our website. Violation of our "Terms and Conditions," we may result in the termination of your right to utilize our website. We may also choose to take additional steps, such as to bar you from future access to our website and we always reserve the right to seek and take appropriate legal action against you, should that be warranted. You may print a copy of these Terms and Conditions using the print feature in your browser. We suggest retaining a copy for your future reference. It is your responsibility to periodically visit the "Terms and Conditions" link at the bottom of our home page to review the most current version of the Terms and Conditions. You may use your browser to print copies of any updated Terms and Conditions.
Third Party Service Providers
Our website and content contained within, may be reliant and dependent upon a third party service providers, such as Gravity Free, social media sites, online press release platforms and more. We do not control these third party service providers and thus accept no liability for their acts or omissions. These third party service providers have their own terms, policies and guidelines. We highly recommend that you familiarize yourself with their terms and conditions, prior to use of their platforms.
Permitted Use and Restrictions
You agree that you are only authorized to visit, view, download, print, and retain a copy of pages of the Sites for your own personal use. You agree that you will not use, upload, copy, print, display, perform, reproduce, license, sell, transfer, host, post, transmit, commercially exploit, duplicate, download, publish, modify, make derivative works of or otherwise distribute our content unless authorized by us to do so in writing.
Intellectual Property Rights
All content on this website is the property of Carithers Flowers and may not be duplicated, copied or used without the express written consent of Carithers Flowers. Content refers to information, text, graphics, logos, icons, images, audio and video and source code information. Our content is protected by U.S. trademark and copyright, as well as by the intellectual property laws of the United States. The absence of a trademark, trade name or service mark on any content contained within this website does not relieve site visitors from their obligations to observe and respect our full intellectual property rights.
Promotional Programs and Special Offers
Carithers Flowers offers a number of Loyalty and Promotional Programs. These programs are available to registered site users, clients and visitors to our website. Our Loyalty and Promotional Programs utilize additional terms and conditions, noted on our website, that are in addition to the "Terms and Conditions" statements included herein. Loyalty and Promotional Programs we offer include "Petal Rewards", "Helping Hands", "Lucky Stems" and more.
Termination of Usage
Carithers Flowers may terminate your access, or suspend your access to our website, for any reason, without notice, at our sole discretion, if we believe that you have violated or breached our "Terms and Conditions," or if we believe that you are in violation of any applicable law of the United States, or if your access is viewed as potentially harmful to our interests, or those of our third party service providers, customers, recipients, subscribers or our Affiliates.
Contacting Us
If there are any questions regarding this privacy policy you may contact us using the information below.

https://www.Carithers.com
1708 Powers Ferry Road
Marietta, Georgia 30067
United States
service@carithers.com