Flower Delivery Photos
Delivering Smiles For More Than 40 Years!
Carithers Flowers is a second generation, family owned and operated flower shop. The professional artisans at Carithers Flowers create some of the most unique and luxurious flower arrangements found anywhere in the United States. The photos that are being shared on this page represent actual customers who received an arrangement for us and agreed to share their special moment with you!
Carithers Flowers Floral Design Center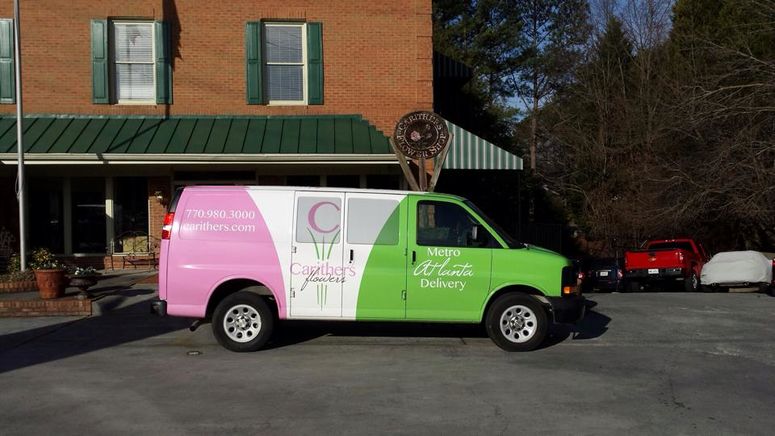 Our main floral design center is located at 1708 Powers Ferry Road, Marietta, Georgia 30067. The facility serves as our customer showroom, production center and delivery hub. The flower shop is open to walk-in traffic Monday - Friday, from 8:30 am - 5:00 pm. Call us at (770) 980-3000 or email customerservice@carithers.com.
Nationwide Same Day Flower Delivery!
Carithers Flowers offers a 100% customer satisfaction guarantee. Every flower arrangement we create and deliver is guaranteed to arrive fresh, beautiful and on the precise day that you requested. If for any reason you don't love it, just contact our floral design center and we will replace the arrangement with another of equal or greater value. Ask about our special 4 hour delivery service, when the flowers have to be there right now!

Delivering Flowers and Generating Smiles
Featured Photos - Most Recent Flower Recipients
Take A Look At Some Of Our Most Popular Flower Arrangements
We offer hundreds of different flower arrangements, themed for special occasions such as anniversaries, birthdays, graduations and weddings. Our sympathy flower line is one of the most extensive in Atlanta. Most of the arrangements we sell are available for nationwide same day delivery, although we do offer a number of pieces that are exclusively available only at Carithers Flowers. We have noted those flower arrangements for you by adding the words, "Local Only"in the upper right hand corner of the flower photo. Any flowers noted as such may only be delivered here in our local flower delivery zone, which includes Atlanta and all surrounding metro suburbs.
Flower Recipient Archive Photos