Today our three story landmark retail store, Carithers at Powers Ferry, is available to you online with express delivery around the globe, a family of "earth friendly" family farms supplying the freshest flowers from fields around the world, and an experienced team of award-winning designers.
Our customers and partners include many Fortune's Top 1000 companies, well-known retail brands, celebrities, families and individuals who deliver Carithers gifts to recognize important relationships and celebrate life's special moments. We are always working to exceed your expectations. In addition to farm-fresh flowers and hand-cut garden roses Carithers delivers an expanded selection of distinctive gifts, including gourmet foods, theme baskets, orchid and plant gardens, collectibles, and holiday treasures.
We have developed our website to give customers a personal, real-time shopping experience. Our live chat, design videos, and shopping suggestions give you immediate access to Carithers' award-winning designers. On behalf of all the Carithers team, welcome and we look forward to serving you.
Recent Awards and Honors
Founders, Larry and Jane Carithers worked non-stop to bring a higher standard of gifting to Metro Atlanta. Today, Carithers is recognized by the industry's prestigious "Top 20" National Florist award. Carithers has been multiyear recipients of the Consumer's Choice Award, recipients of The Atlanta Journal and Constitution "Readers' Choice Award", featured in numerous national magazines, and most recently voted Atlanta's Best Florist by Atlanta Magazine 2007. Numerous national honors include decorating for five U.S. Presidential Inaugurals, the 2004 Las Vegas world record-setting banquet seating over 10,000.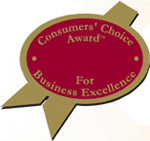 Carithers Earth Friendly and Fair Trade Initiatives
Carithers green and sustainability programs are the most expansive and progressive in the business. Working one on one with select family growers around the globe Carithers sourcing boasts the most environmentally sustainable and responsible floral farms. Moving forward Carithers will continue to lead the way as the industry completes comprehensive initiatives for fair trade, sustainability, carbon monitoring, and organic certification. For more information regarding Carithers "Earth Friendly" programs contact green@carithers.com
Carithers Community and Charity Give Back Programs
Carithers Flowers believes in giving back to community organizations and charitable causes. Each year Carithers donates over $100,000 in product, services and monies to local and national nonprofits including our 2007-2008 recipients: The WellStar Foundation, Susan G Komen "Tickled Pink" Breast Cancer Foundation, Cobb County Helping Hands, Hero's and Legends, Georgia's Teachers Association, The American Heart Association, Boys and Girls Clubs, and numerous local school programs throughout Metro-Atlanta.

Now you too can help us support the community with each gift you purchase! Carithers Flowers is excited to present a new give back program called Helping Hands. The new Helping Hands Program allows Carithers' customers to self-direct up to 3% of each gift to a participating nonprofit or charitable organization. To qualify your charity or community nonprofit simply fill out The Charity Organization Application. For more information regarding Carithers give back programs contact: helpinghands@carithers.com
Carithers 100% Satisfaction Guarantee
Carithers aims to exceed your expectations with every gift. However, if for any reason you are less than fully satisfied with your service or gift, Carithers will happily re-design and re-deliver your gift at 100% value. For more information contact: service@Carithers.com.